It is Summer now and time for a new snack that is easy to make and digest. A gluten free delight that can be served with dips of your choice. As usual, my preference is hot from the pan, dripping with tiny a bit of delicious oil.
Pumpkin Fritters
All you need is the old pumpkin, some seasoning and some oil to make this delicious and healthy versatile dish.
OK, maybe a few other ingredients could be added, but I tell you Pumpkin Fritters are finger licking fine.
Thing is, I do not remember them being called "fritters". I don't think we particularly called them anything, pumpkin cakes maybe, but not "fritters". They were just another nice quick way to eat on the run. A slow food snack that grown-ups gave you while you were playing and gallivanting around exploring the outdoors with grazed knees and bows and arrows. Oh yes, I was a tom-boy, an action gal!
However, Pumpkin Fritters it now is. Now also it is a delicacy that can be baked and served with creamy cheese!! What is the world coming to eh? Lol. You see we never baked the cakes/fritters though pumpkin bread, a totally different thing, was baked; nor indeed did we have bacon or cream in the mix. Neither did we have air-fryers in which to do them. Yikes! So I am old. 🙂
The recipe may vary in some islands depending on cultural influences, but I fancy this one which I totally copied from the Totally Barbados website:
Stuff to Mix Together
2lbs/1kg pumpkin
Salt
3 tablespoons brown sugar
2 teaspoons mixed powdered spice or cinnamon
1 egg
1 cup 5oz/155g flour
2 tablespoons milk
2 teaspoons baking powder
Canola oil for frying
Garnish: 2 tablespoons brown sugar mixed with1 teaspoon mixed powdered spice
To Make
Peel, cut up, and boil the pumpkin in salted water until soft.
Drain and mash pumpkin. In a little bowl, mix the sugar and spice and add to the pumpkin.
Whisk an egg and mix it into the pumpkin along with the milk. Add baking powder and flour until it comes to a good dropping consistency.
Shallow fry both sides on medium heat until dark brown. Adjust heat when cooking, so fritters cook through without burning. These fritters should be fairly thin with a creamy consistency inside when cooked.
Serve hot, sprinkled with a mixture of sugar and spice.
Makes 20-25 fritters.
I fancy this recipe because it seems closer to what I remember as a child even though it doesn't mention the spring onion or chives which turned up depending on which granny was doing the cooking.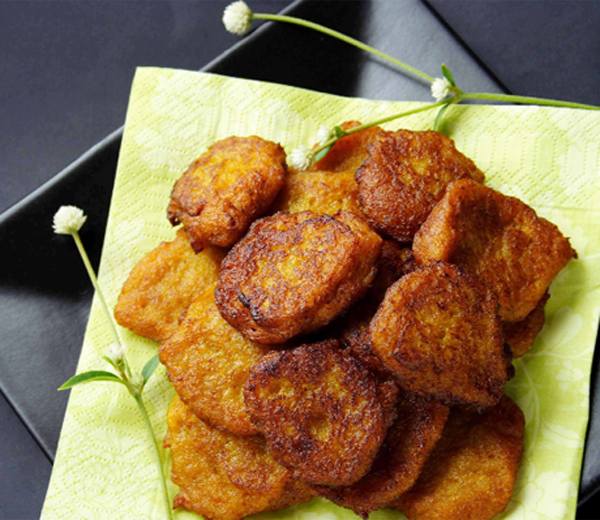 We used our ignominious pumpkin from the backyard, the same pumpkin put in conkies, soups, pone and wherever else it would go. It grew all over the yard in and out of crevices and gutters and had to be chopped back fairly often. The vine could cause a nasty fall to a Cowboy chasing an Indian, or more pleasantly could work as a skipping rope for a bit. Like my darling Spinach though, pumpkin was very welcome come food time. The fritters were a good snack on the go, a side dish at mealtime, and a welcome party food as they are gluten free and vegan-friendly.
Pumpkin Fritters are served in local Barbadian eateries and more particularly in shopping areas and some malls, like the Sheraton Mall.
Pumpkin is not Squash. However, you can substitute Squash in the Recipe and up the spicy in the mix, like adding curry, nutmeg, cumin, or some such to give it more flavour and a certain kick.
While your'e cooking, also experiment with adding other stuff to the mixture, like lentils, onions, parsley to sprinkle on top or maybe drench with caramel sauce or yogurt. Have them on their own while gadding about, as we did as children, or serve as an appetizer or side dish for dinner or picnic. However you choose to have them, Pumpkin Fritters are an easy meal to digest.
That's why I call it a versatile dish. Have fun!
A very similar recipe from Bajan Bite is here https://wp.me/p6Cre6-fX where you may find a few other near vegan recipes and tit-bits.
bon appetit