Barbadian Poet Edward Kamau BrathwaitePhoto by Beverly Brathwaite My Poetry Corner February 2021 features the poem "Islands" from the poetry collection, The Arrivants: A New World Trilogy, by the Caribbean poet and historian Edward Kamau Brathwaite (1930-2020). Born in Bridgetown, Barbados, into a middle-class family, he won a British scholarship to Pembroke College, Cambridge. There […]

"Islands" – Poem by Barbadian Poet Edward Kamau Brathwaite
I am very pleased to reblog this excellent article from Three Worlds One Vision, which highlight one of Barbados' grand writers, Kamau Brathwaite.
Winston Farrell
Another of Barbados' acclaimed native writers is Winston Farrell, bio'd here by BimLitFest: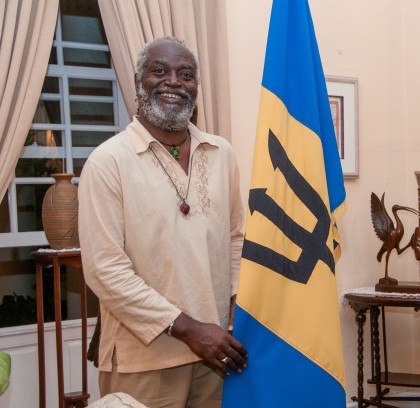 2015 NIFCA Gold Award winner and recipient of the Governor General Award for Excellence in the Literary Arts, a practicing Theatre Artist, Poet and Playwright, Farrell holds a Master in Theatre and Development Studies from the University of Leeds. He gained a Writer/Artist in residence with the Hudson Valley Writers Guild and the University of Albany NY in the early nineties and in Kentucky at the Jefferson Community College and the University of Louiseville in 2000 and 2002. Farrell has been published in literary journals like Poui and Caribbean Writer among others, he has also recorded a number of his 'Pop-Poems', from the Bus Man to his most recent contribution, 'Reach for the sky' on the popular Loc' dung riddem'. A Frank Collymore Literary Endowment winner, his publications include, Call of the Quarter Master, Bustin' the Blues and Bare foot on Ice. His play text, House of Landship, won the Villa De Paris prize for Best Non Francophone play for 2013 and represented Barbados at Carifesta X1 In Suriname.
I can remember being present at some of his fledgling outings, and since then he has carved his place in Bajan literary history. He was undoubtedly influenced by Kamau, and has performed some extracts of his work for local audiences.
Farrell also works with the Barbados Youth Service as the Cultural Arts Officer developing youth in arts. A Stage Director and Theatre for Development facilitator and Actor, Farrell has been involved in the Arts for over 35 years.
Back in 1993 he gained a British Council Visitorship where he toured and worked with leading Theatre Companies, and notably in 2004 he played the character of 'Dessalines' in C. L. R. James' 'Black Jacobins', which was produced by the University of the West Indies, Cave Hill Campus.
So after you have consumed all of Rosalie's great post on Kamau, you may then care to come back here and read this post on Farrell by seawoman:
And this poem I truly like which he did for the Festival Internacional de Poesia de Medellin in 2015.